Right as we were signing off... she waved good bye!
The lack of a boy part!!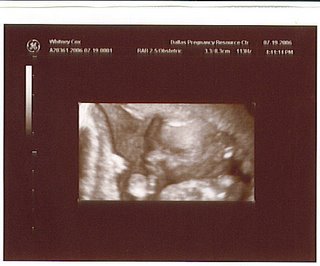 The 3d face with her sucking her thumb.
Break out the bows, pink, and everything else girl. I went to the 3d/4d sonogram a couple weeks ago and the lady informed me that she was 90% sure we are having a girl. Anyone who knows the girls in my family knows we are already having fun. I just hope Dr. Riegel says the same thing, my gut instinct was right again. Rusty thought it was a girl to the very day before the sono and then decided the day before it was a boy. It's a good thing because we were struggling with the boy name. It was so funny during the sonogram, they had to call in help and the professionals because Mackey was so active, pray for me!! I will have to post some of the fun purchases that have already been made.
* the theme for the room is vintage: I have purchased old vintage hankies and tea cups to start the room off... Hope she has one since 22 Brookhollow Circle has still seen no action.